45th Annual Reformation Day Sunday Service
October 31, 2021, at 4 p.m.
You are cordially invited to join us in worship at the 45thAnnual Reformation Day Service, with the Rev. Dr. Brian Lee, Sr. Pastor, Christ Reformed Church DC.
Click here for the worship bulletin.
Reformation Day
Reformation Day is celebrated on October 31 each year to mark the anniversary of Martin Luther's nailing of the Ninety-Five Thesis to the door of the church in Wittenberg, Germany, in 1517. The Sunday nearest is observed as Reformation Sunday.
Please note that audio enhancement technology is available at Wallace for those who need it.   
Due to the Prince George's County mask mandate, masks must be worn during the service.
The service will be live-streamed for those who can't join us in person.
Please visit our streaming page on October 31, for more details.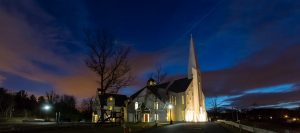 Home Groups meet on Sunday nights during the rest of the month. Click here to find out more about this ministry.